Wear Your Heart on Your Hands With Fingerless Knit Gloves
This just in: you no longer have to wear your heart on your sleeve. In fact, we recommend carrying it around in your hands. These simple knit mitts get a bit of Valentine's Day love with super-cute stitched embellishments.
Fingerless Knit Gloves
Level: Easy
Designed by Sunne Meyer
What You Need
1 hank Cloudborn Highland Superwash Worsted YarnSize US 7 (4.5 mm) knitting needles (or size needed to obtain gauge)Tapestry needle
Gauge
21 st x 28 rows = 4″ in stockinette stitch
Pro Tip: Your gauge will determine the size of these mitts. If they're fitting a bit loose, go down a needle size or use a thinner yarn. Too tight means you should try bigger needles or yarn.
Finished Size
8″ around and 5¼" tall
Abbreviations
BO – bind offCO – cast onK – knitK2tog – knit 2 togetherP – purlPM – place markerRS – right sideSt – stitch(es)WS – wrong side
Instructions
CO 42 st, leaving a 10-12″ tail.
Row 1: *K2, p2, repeat from * until 2 st remain, k2
Row 2: * P2, k2, repeat from * until 2 st remain, p2
Repeat rows 1 and 2 three more times.
Row 9 (RS): Knit.
Row 10 (WS): Purl.
Repeat rows 9 and 10 nine more times.
Row 27(RS): k1, k2tog, k until 3 st remain, k2tog, k1.
Repeat rows 9 and 10 two times, then row 9 once more.
Row 33 (RS): K1, *p2, k2 until 3 st remain, p2, k1.
Row 34 (WS): P1, *k2, p2, until 3 st remain, k2, p1.
Repeat rows 33 and 4 one more time.
BO all stitches in pattern , leaving a 6-8″ tail.
Using mattress stitch and starting at the top of the mitt, seam to the decreases with shorter tail. Weave in ends.
Starting at the bottom of the mitt, using longer tail, seam the edge, stopping after 2¼". Weave in your end.
Wash and block if needed.
Embellish-Mitts
While plain gloves are good, embellished ones are better. Here's how to put a heart on your new fingerless mitts.
Good to Know: To learn more about embroidering on knits, check out our class Boho Style: Embroidered Sweater.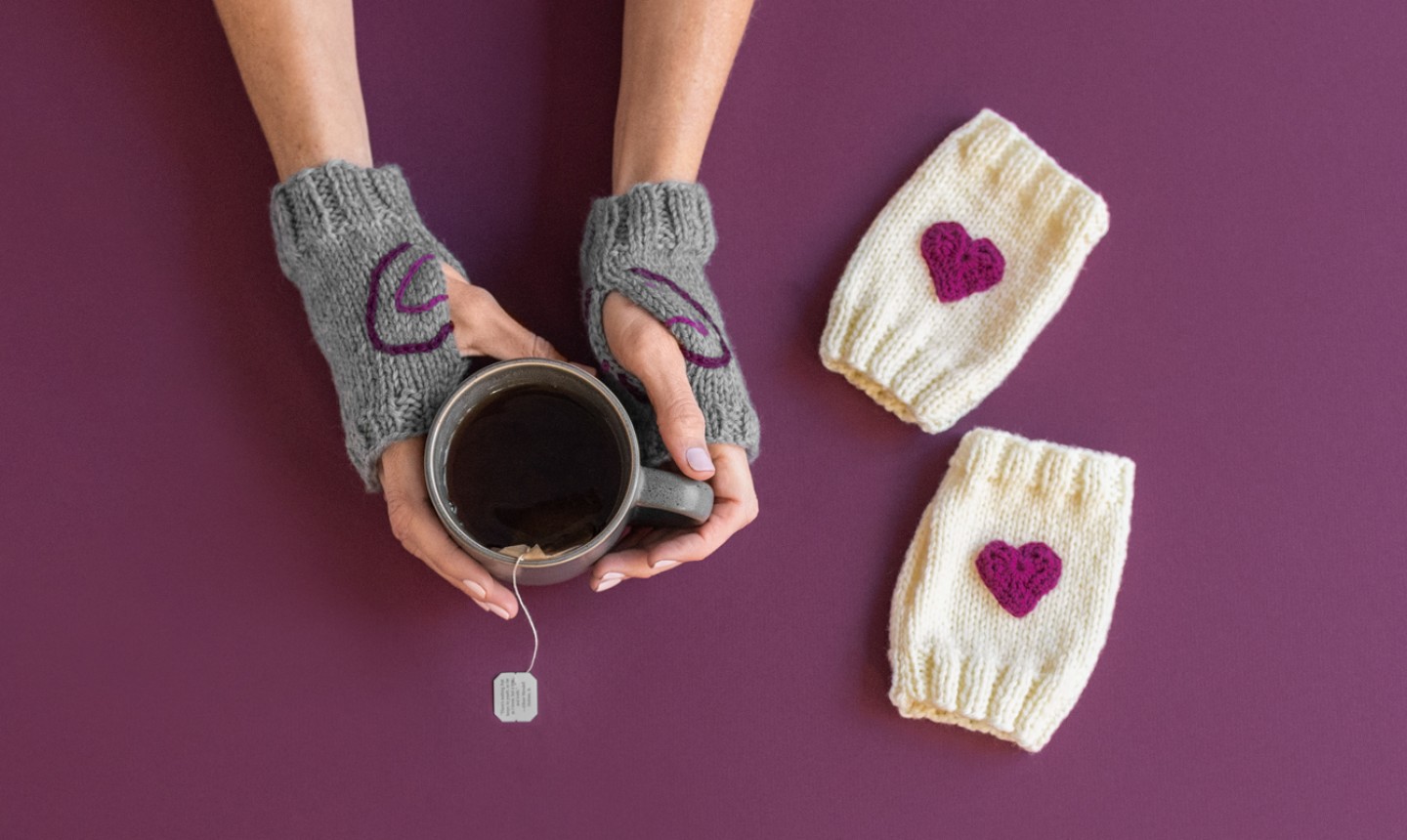 Option 1: Use a chain stitch to outline a half-heart around each thumb opening.
Option 2: Crochet a small heart and stitch it to the back of your mitts.
Option 3: Flex a few more embroidery muscles — daisy stitch, french knots and stem stitch make these hearts and flowers really pop.